SOAZ, Promoting the ethical and sustainable use of our wildlife resources for the benefit of communities, wildlife
and tourism.

Mukuvisi Woodlands, Hillside Rd.
Hillside, Harare.
Tel: 779792 | Fax: 779792
E-mail: soaz@mweb.co.zw / soaz1@mweb.co.zw
Websites: www.soaz.net / www.zphga.com / www.ztoaonline.net

Welcome to our third publication of the The Bush Telegraph/Newsletter 2017. This is your publication and we welcome contributions and suggestions.
Dear HUAP Friends,
Mr Gé Pellini and wife Arielle arrived in Windhoek, courtesy Air Namibia, from Frankfurt on Wednesday, 12 July.
We are grateful for the support of Mr Theo Redelinghuys, Toyota Gobabis, who provided Gé with a Toyota Double Cap Hilux 4x4 Vehicle to travel throughout Namibia for the duration of the Rhino Sculpting project


.Gé and Arielle, Mr Kambezunda Ngavee, a student of the College of the Arts and Mr Jürgen Rumpf (a dedicated NAPHA Member) immediately travelled to Karibib to meet Mr Mark Hoffmann from Namibia Stone Services, who generously donated the marble. A 9 ton block of marble was chosen by Gé, a 3 ton marble block will be waiting for the sculpting talents of our own Namibian Artist Alpheus, whilst an additional 'baby' block weighing 100kg was chosen by Kambezunda to sculpt. All three marble blocks will be delivered to the terrace of the Franco Namibian Cultural Centre (FNCC) on Tuesday, 18 July, at 10h00. 


Gé and Arielle are currently experiencing true Namibian hospitality, as they are traveling up north to Etosha National Park - courtesy of Namibia Wildlife Resorts - to spend three nights at Halali and interacting with game wardens, prior to continuing on a Rhino Tracking Adventure – with the Save The Rhino Foundation.
On Monday 24 July, our Honorable Minister of Environment and Tourism Mr Pohamba Shifeta, will officially launch the sculpting of the rhino(s) at 11h00. Please come and join us for this occasion.
We will provide further updates throughout the weeks of sculpting, culminating in a grand Gala Dinner and Auction to be held at the Windhoek Country Club Resort, on the evening of the 31st of August.
Sincerely,
The HUAP Trust 
NICOLE SCHWANDT, EXECUTIVE ASSISTANT
T: +264 (0)61 234455   F: +264 (0)61 222567   E: NAPHA@NAPHA.COM.NA
PO BOX 11291, WINDHOEK, NAMIBIA, WWW.NAPHA-NAMIBIA.COM
Bow Hunting - SOAZ President E M Fundira ZTV



Despite recent rumors to the contrary, the existing bans on African lion and elephant importation from Zimbabwe remain in effect.  SCI received confirmation of this information yesterday from the U.S. Department of the Interior.  Unfortunately, press releases and news reports coming from Zimbabwe during the last several days incorrectly reported that the U.S. position on importation of lions and elephants from Zimbabwe had changed.

In April 2014, the U.S. Fish and Wildlife Service imposed a ban on the importation of legally hunted elephants from Zimbabwe.  SCI and the National Rifle Association sued to challenge the ban and the case continues in federal court.  SCI and NRA have already seen some success from the case.  The district court held that the Service illegally imposed the ban before announcing it in the Federal Register.  As a result the Court held that the ban could not commence until May 12, 2014, when the agency published its formal notice.  Several SCI members and others who successfully hunted elephants between April 4 and May 11, 2014, are now in the process of importing their elephants.

In January 2016, the Service adopted regulations requiring individual permits for the importation of each African lion into the U.S. Since that date, the FWS has not granted a single permit for the importation of a legally hunted lion from Zimbabwe.

Although the Department of the Interior has not lifted either the elephant or lion importation ban, SCI is optimistic that we will see changes to the status of importation from Zimbabwe in the near future.  We will continue to monitor the importation situation, and will immediately alert our members to any changes. 


Please take note that no firearms will be transported to/from the United Kingdom via South African Airways, effective 6 July 2017. More information attached. Kindly inform your members / relevant parties accordingly.
Click to download this travel alert.
http://www.bbc.co.uk/news/world-africa-41083374

Click image to read.

UNDER PRESSURE: THE STORY BEHIND CHINA'S BAN
https://www.theguardian.com/environment/2017/aug/29/story-behind-china-ivory-ban



The BIG LIE about lion trophy hunting
So often we hear from the pro-hunting lobby that by killing free roaming lions, trophy hunters are actually saving lions.
Well, if my aunt had balls she'd be my uncle.
That term "sustainable offtake" often creeps into the justification. The trophy hunting of free roaming lions is about as sustainable as putting ice cubes in a mug of steaming coffee. Let's dig deeper into this issue of sustainable, shall we?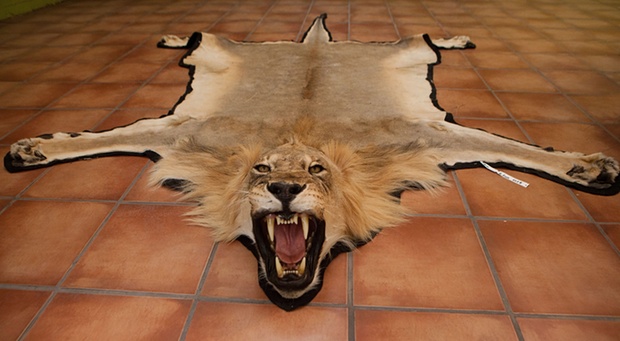 A lion skin as a trophy from a hunt in Namibia ©Ton Koene/Alamy
A lion skin as a trophy from a hunt in Namibia ©Ton Koene/Alamy
Consider the following six examples of why the trophy hunting of free-roaming lions is NOT sustainable – from the very countries held high by the trophy hunting industry itself as being paragons of sustainable hunting practices:
1. The Namibian government does not know how many breeding-age desert-adapted lions are left, how many territory/pride males there are, or even how many of each sex are killed during human-lion conflict. They told me so – see this article written by me. And yet each year they set trophy hunting quotas for large male desert-adapted lions. The awarding of trophy hunting quotas off the back of no relevant statistics is NOT sustainable.
2. Namibian laws permit rural livestock owners to request for the lethal removal of predators targeting their livestock – so-called 'problem animals'. Fair enough. BUT trophy hunters are often used to perform the execution, and we know that trophy hunters want to shoot big male lions. And communities benefit financially when 'problem animals' are identified and taken down by hunters. Is it coincidence then that there is a large bias towards male lions amongst those lions reported as being 'problem animals', and consequently executed by trophy hunters?
In the last scientific research report on Namibia's desert-adapted lions, published in 2010, the author states, when referring to six collared male lions killed by trophy hunters as 'problem animals': "In all six cases, however, it is arguable whether the adult males that were shot, were in fact the lions responsible for the killing of livestock."
This gap in legislation – empowering the two beneficiaries of 'problem animal' execution to act as witness, jury, judge and executioner – is NOT sustainable.
3. The above report concluded: "The long-term viability of the desert lion population has been compromised by the excessive killing of adult and sub-adult males. There is an urgent need to adapt the management and utilisation strategies relating to lions, if the long-term conservation of the species in the Kunene were to be secured."
Since then the situation has worsened as regards male lion offtake, with some areas now almost devoid of male lions. Even the last known adult male lion in the Sesfontein Conservancy was earmarked to be shot – again conveniently classified as a 'problem animal' – until international pressure forced the Minister to change his mind. A rapidly reducing male/female lion ratio is NOT sustainable.
4. Craig Packer, director of the Lion Research Center at the University of Minnesota, has led a series of studies identifying over-hunting as the major reason for the steep decline in lion populations in Tanzania, the lion hunting mecca. Packer was banned from entering Tanzania for exposing corruption with regard to lion trophy hunting.
Being tagged as the cause of crashing lion populations makes trophy hunting of lions in Tanzania NOT sustainable, and the widespread use of fraud and corruption as a business tool suggests a morally bankrupt industry.
5. When 13-year-old Cecil the lion was shot in Zimbabwe, the over-riding justification was that he was 'too old' to breed or to successfully hold a territory (as if those are the only uses of a mature lion). Then, Cecil's son, Xanda, was also shot by a hunter, at the age of six – and the professional hunter Richard Cooke knew that Xanda was a pride male with cubs, and lied about the situation. In fact, Cooke also led the hunt that killed Xanda's other son – at the age of four.
So, lions of all ages are being shot, and the trophy hunting industry lies and re-invents the justifications each time to suit their need to keep the business model rolling. That is NOT sustainable.
6. Rural communities living amongst wild lions have to see meaningful and sustainable benefit from having lions in the area. Lions are often a threat to lives and livelihoods and these people have the right to expect to be compensated to behave differently. After all, the rest of the world has mostly sanitised itself of large predators.
Surely for trophy hunting to be truly sustainable, these communities must receive a significant portion of the trophy fee? A 2013 study by Economists at Large, an Australian organisation of conservation-minded economists, found that on average only 3% of money generated by trophy hunting winds up in the hands of local people.
During research for my article referred to in point one above, Namibian government officials told me that the relevant community only receives about 12.5% of the trophy hunting fee for a quota lion (US$10,000 of the ± US$80,000 fee) – and only about 1% in the case of a 'problem animal' hunt. The rest goes to the professional hunting operator. This is NOT fair or sustainable.
This is what we do know about lions: Populations have crashed from about 450,000 in the 1940's to about 20,000 today – mostly due to human-wildlife conflict, habitat loss, prey base loss and trophy hunting (US Fish and Wildlife Services).
The remaining pockets of lions are increasingly isolated from other populations, and no longer able to disperse and so maintain population genetic diversity and stability. When young males flee from dominant pride males, and seek out other lions, they leave protected areas and are picked off by hunters and livestock farmers – thus preventing the vital dispersal of young lions to other areas.
The surgical removal of big male lions by trophy hunters within the context of the above is NOT sustainable in any way, shape or form – regardless of what the other causes of lion population reductions are. The trophy hunting industry claim of sustainable practises is nothing but a lie. It's a fiercely protected justification to continue the senseless and outdated fetish for killing off Africa's big male lions for fun and ego. The fantasies of a few rich people are taking precedence over the survival of an African icon, over the proper functioning of Africa's wild places and over the tourism industry which brings in many times more revenue, jobs, skills enhancement and societal benefits.
The trophy hunting of Africa's wild, free roaming lions is NOT sustainable and has to stop.
http://www.jenmansafaris.com/top-10-lodges-of-zimbabwe-jenman/
Best places to visit in Zimbabwe: top ten


Here's my list of ten best places to visit in Zimbabwe. Do you know what strikes me about this list? The landscapes are all so varied. From the rainforest at Victoria Falls, to the rocky vistas at Matobo National Park, to the misty hills of Nyanga, one thing is for sure: there's too much to see in just one holiday.
1. Victoria Falls


The largest waterfall in the world (when accounting for both width and height) should clearly be at the top of everyone's travel bucket list. There is no substitute for seeing this thundering, frothing, life-affirming natural wonder in person. Victoria Falls is on the border of the two countries of Zambia and Zimbabwe, but 90% of the viewing points are in Zimbabwe (just sayin'). While you're there, the town of Victoria Falls (which is, yes, in Zimbabwe) has so much to do that you should stay here at least three days to enjoy it fully. There's white-water rafting, bungee jumping, Big Five safaris, helicopter rides, river cruises, local village visits, steam trains and so much more, set in exceptionally beautiful surrounds. Read my Victoria Falls travel guide.



2. Lake Kariba


Kariba is one of my personal happy places. It's the world's largest man-made lake (by volume) and its dam wall is an Italian-designed feat of engineering. While that's very impressive and all, you'll visit this area for its extraordinary natural beauty and prolific wildlife. The mountain-edged area around the lake is home to the Big Five, as well as numerous other bird and animal species. I recommend you rent a houseboat and enjoy home-comforts whilst travelling to different parts of the lake. Alternatively, stay at a safari lodge or self-catering accommodation on one of the peninsulas or islands of Kariba. Wherever you go along the lake, one thing is guaranteed: your view will be accented by petrified trees jutting into the skyline and elephants wallowing in sunset-hued waters. Read more posts about Lake Kariba.

3. Mana Pools National Park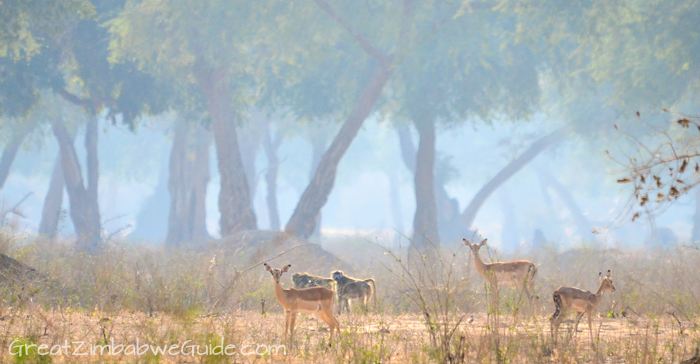 Located along the forested floodplains of the Zambezi River in north-eastern Zimbabwe, this UNESCO World Heritage Site is one of Africa's last unspoilt wildernesses. Perhaps not as easily accessible for tourists as Hwange National Park, there are many pros for visiting Mana Pools: prolific wildlife, scenic vistas of the Zambezi River, undergrowth-free forests, and fewer tourists. Many seasoned safari experts regard Mana Pools as the epitome of authentic game viewing in Africa, as well as one of the top locations for walking safaris and canoe safaris. You can self-drive, or stay in a guide-led lodge, both of which allow for numerous opportunities to live at close quarters with elephant, hyena, lion and hippo. Read more posts about Mana
4. Matobo National Park (Matopos)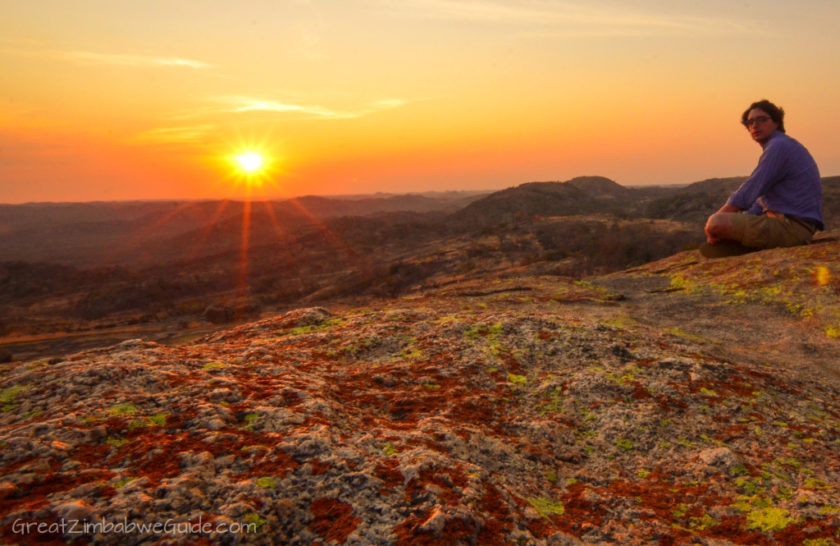 In this unique landscape of balancing rock formations and granite hills, rhinos can be found meandering through the vegetation, whilst eagles soar overhead. The caves here have been inhabited my man for thousands of years, leaving a legacy of rock paintings and legends for future generations. The spiritual atmosphere of Matobo National Park is felt by even the most world-weary of visitors, and you shouldn't overlook it in your visit to Zimbabwe. The nearby city of Bulawayo is also a historical icon; read posts about Matopos and Bulawayo.
5. Great Zimbabwe Ruins & Monument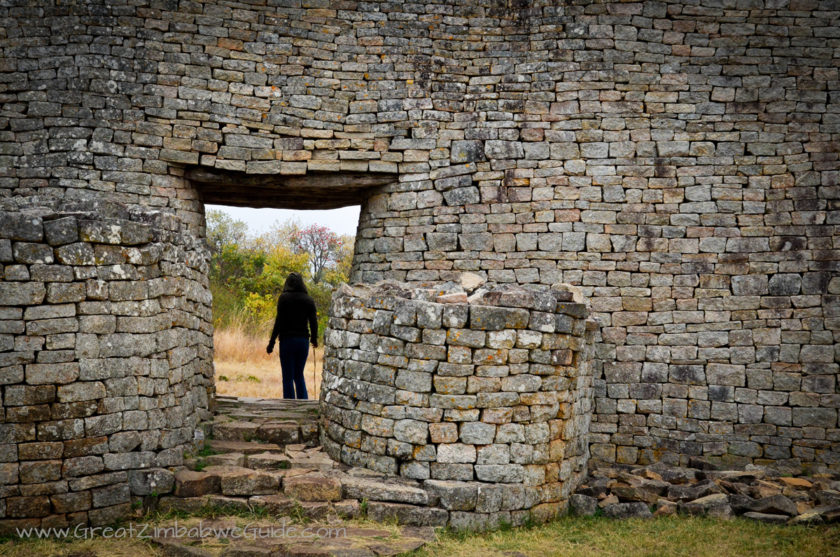 For centuries, the structures at Great Zimbabwe have captured the imagination of locals and explorers alike. They're the largest, and second-oldest of their kind in sub-Saharan Africa. The local name for the site was "Dzimba dza mabwe" (roughly "Houses of Stone") or simply "Zimbabwe". These ruins are so important that when Rhodesia became independent in 1980, the nation itself was named after them. In addition, the soapstone bird carvings found at the Great Zimbabwe site have become the nation's emblem, and are a central feature on the country's flag. This, along with the size and scope of the ruins, makes the Monument a fascinating and insightful place to visit. Read my Great Zimbabwe Monument & Ruins travel guide.
6. Hwange National Park
Roughly the same size as the Serengeti National Park or the state of Connecticut, Hwange is home to one of the largest elephant populations on earth. This may sound trite, but when you see a 200-strong family of elephants just footsteps before you, without any fences, bullhooks or 'handlers' in sight, the term 'wild' will take on a whole new meaning. Not only that, but there are lion (it was home to the now-famous Cecil), giraffe, cheetah, African wild dogs, and over 400 species of birds, all of which make this a wildlife-viewing paradise. Due to Hwange's easy access from Victoria Falls and Bulawayo, and a wide range of accommodation options, this is the perfect place both for first-time safari-goers as well as seasoned bush lovers. Read more posts about Hwange National Park.
7. Harare City


The capital, Harare, is where I was brought up, and it has more going for it than first meets the eye. It has art galleries and historical relics, wildlife sanctuaries and natural beauty. It's home to ladies-who-lunch and politicians, accountants and technology whizzes; gardeners and doctors. You'll see cyclists carrying firewood on their heads, "emergency taxis" weaving crazily along pot-holed roads, and street vendors selling flags at traffic lights. The street lights often don't work, yet certain suburban houses with generators will be illuminated from every square foot. The cars range from brand-new Hummers to dilapidated VW Beetles. The city centre can look tired and brash, yet the north-eastern suburbs are spacious and beautiful.
Harare is the perfect mish-mash of contradictions to introduce you to Zimbabwe before heading into the bush. As much as I want you to experience Zimbabwe's game parks and natural wonders, I think it's equally important to embrace the country's cities and towns, to understand the whole picture. Read my Harare, Zimbabwe travel guide.
8. Gonarezhou National Park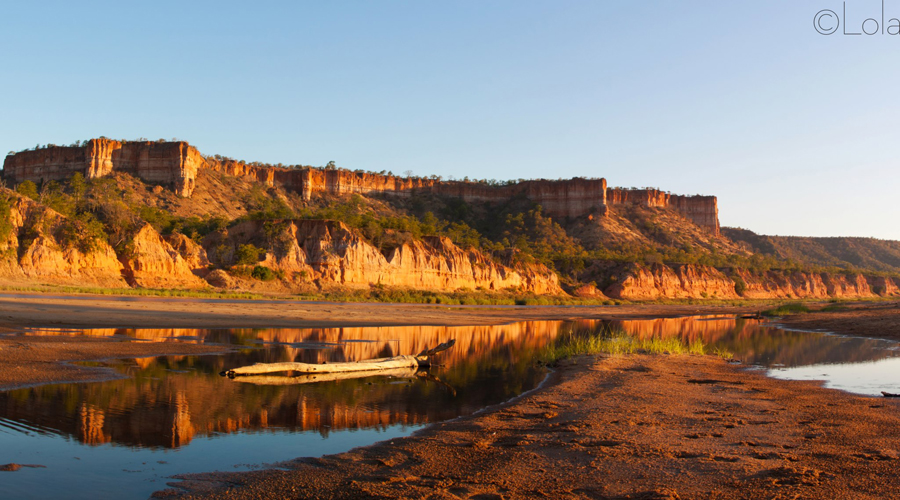 Chilojo Cliffs, Gonarezhou National Park. Photo credit: RedWind/Lola 
This National Park is famed for its dramatic red sandstone cliffs, jutting into the sky as if they were sealing the edge of the known world. The elephants here have a reputation for being larger and less tolerant of humans than elsewhere in the country, due to a historical conflict between hunters, local communities and authorities. More recently, innovative projects have gone a long way in improving relationships with the local people and easing human-wildlife conflict. There are two luxury lodges in this area, both of which are highly attuned to sustainable community development and conservation. In addition, there are self-catering lodges and 'undeveloped' campsites for anyone wanting to truly go back to basics.
Game-viewing is less prolific and temperatures can be high, but this only adds to the feeling of being in a lost world, isolated from modern distractions. The rewards are many: you'll have the chance to see rhino, wild dog, long-tusked elephant and rare king cheetah, without another human being for miles.
9. Vumba Mountains (Bvumba)

This lush, mountainous forest is a complete contrast to the savannah ecosystems seen elsewhere in Zimbabwe, confronting many people's preconceptions about 'typical' African scenery. Vumba is a small but photogenic reserve, offering exciting walking trails and mist-hued views into the neighbouring country of Mozambique. It's one of the few places in Zimbabwe where you can see forest-dwelling samango monkeys (as opposed to widespread vervet monkeys) and rare bird species such as the jackal buzzard − all in a fairytale-like, Lord of the Rings-style location. There are a number of picturesque lodges and hotels in the area, as well as coffee plantations, an infamous coffee shop, a golf course and enchanting botanical gardens.
10. Nyanga National Park
If you were teleported to Nyanga, you'd be forgiven for assuming that you were in the highlands of Scotland. Swelling hills, pleasantly gurgling rivers, mountain waterfalls, and green valleys greet visitors: all this barely three hours from Harare. Nyanga is not the place to see the Big Five (although there are smaller species); it's the place for snuggling next to a fire in a cosy cottage, walking along fern-lined mountain paths, and going wild swimming in sparkling waterfalls. Your friends will never believe that your photos were taken in Africa. Be part of the movement that breaks those narrow stereotypes.
What do you think? Do you have a #1 favourite place to visit in Zimbabwe?
More about Great Zimbabwe Guide website
Zimbabwe's politics and economy have been covered in the media for a number of years but there is so much more to this country. Zimbabwe has an abundance of life-affirming travel opportunities for those who take a closer look: world-class wildlife, vast wildernesses, and friendly people who are proud of Zimbabwe's treasures. (Corny as that may sound, it's true.) My aim for the blog is to showcase the positive aspects of Zimbabwe to the world, while providing useful and honest information for anyone interested in travelling...

www.greatzimbabweguide.com/category/city-and-area-guide/
Dear Friends of Hwange
After anticipating a pretty harsh winter, the weather has so far been rather mild, and only the last two weeks have been uncomfortably cold in the early mornings but the days are glorious as usual. We have so far not had any of the bad frosts usually experienced on and around the vlei lines. The grass has become dry and brittle, and will be a hazard when the inevitable fires start around the park. Water in the pans is generally excellent, and there is still a lot of standing water in many areas from the rains. This will help enormously in getting us through the dry season.




We have been very busy burning fireguards starting with the section from the Mpofu entrance gate down to Broken rifle. We then progressed to the worst section through to the Mambanje River. The dongas, hills and rocks here make it hugely difficult to grade without breaking equipment. The grass is very tall and abundant and it is imperative that the firebreak here is done properly as this is where the most devastating fires usually start. The twin firebreaks from Matoa down to the Shapi tar – about 60 km - have been completed. These were not burned last year, so the bush encroachment was severe with many fallen trees, and it was back breaking work. Of note is that there is still plenty of water in the natural pans in the Mopane forest in that area, and an abundance of game.  Parks staff have started a little work on firebreaks now too, but are struggling with strong winds, and the fact that some of the grass is still green and does not burn very well. Parks were donated some very good equipment from WWF for fire fighting, and for clearing of fireguards in the form of a disc harrow which is proving very effective. The loop road from Main Camp through to the White Hills junction has been graded by the FOH tractor to remove the thick grass from the edges of the road, and it now forms an effective firebreak.



Large groups of elephant have returned to enjoy the huge crop of Acacia Erioloba pods this season, but they're bound to spread out again when water becomes scarce. There is also lots of plains game to be seen, in particular many sightings of Sable Antelope. There are also several large herds of buffalo around and about.   

All the pans are either full or near full.  A solar pump at Dopi pan was put out of action by a lightning strike earlier in the year, but this has been repaired and is once again working well.  One of the solar pumps at Kennedy 2 and another at Nweshla also stopped pumping, but these were minor issues and have been successfully dealt with. Garakamwe and Sinanga Pans are both as full as we have ever seen them, and Nyanandhovu at capacity too.  There are a lot of elephants using Kennedy 1 pan as well as the pan on The Hide concession at present.



As always, we extend heartfelt gratitude to all our donors and supporters in helping us carry out vital work in the park, and without whom we would not achieve what we do.

Trustees – Friends of Hwange Trust.

| | | | | | |
| --- | --- | --- | --- | --- | --- |
| | | | Website | | Twitter |
Trustees: D.C. Dell; B. Edwards; B. Wolhuter; D. St Quintin; Dr. K. Jenkins; G. J. Brebner

http://www.herald.co.zw/how-to-save-the-rhino-from-extinction/


International airlines are playing a significant role in the revival of Zimbabwe's tourism sector.
THE Reserve Bank of Zimbabwe (RBZ) has begun allocating foreign currency for remittance of cash from ticket sales by international airlines, which have been failing to repatriate payments due to foreign currency shortages, The Financial Gazette has learnt.
International airlines had started tightening screws on liquidity-starved Zimbabwe owing to a worsening foreign currency crisis that had resulted in a huge backlog of unremitted ticket payments, with some having been outstanding for over 140 days. Board of Airlines Representatives chairperson, Winnie Muchanyuka, who is also South African Airways country manager, said although there was still a backlog, the situation was now under control.

"The issue of foreign currency shortages is not a secret in Zimbabwe. Constant engagement between the airlines, IATA (International Air Transport Association) and the RBZ has yielded results. Although we have a backlog, the situation is being managed so that the airlines do not suffer," she said. Muchanyuka said Zimbabwe's situation was currently not as bad as in other countries.

"Zimbabwe's situation is less than what is happening in Angola, not that we are trivialising the issue but the repatriations have been going through every single week to IATA to distribute to the airlines," she said. IATA dispatched its top executives at the beginning of March for crucial meetings with authorities over delays in repatriation of payments for ticket sales. Muchanyuka could not say how much was still locked in the country since IATA was in charge of the figures. She said international airlines were playing a significant role in the revival of Zimbabwe's tourism sector.

"This gives you the assurance that the tourism market is growing. There is great potential… we need a vibrant market where there is competition which in turn will lower fares," she said.
newsdesk@fingaz.co.zw
African airlines post growth in demand: IATA
The International Air Transport Association (IATA) said African airlines recorded the largest year-on-year increase in demand compared to other regions in May this year, with freight volumes growing by 27,6 percent.The robust recent performance of air freight has been set against a stronger global economic and trade backdrop.
The industry already supports 6.8 million jobs and generates $72,5 billion of economic activity on the continent.
IATA represents some 265 airlines accounting for 83 percent of global air traffic.
African and Latin American airlines fly a relatively small proportion of global air cargo between them which is less than 5 percent of total international freight ton kilometres (FTKs).
The global air freight markets data that IATA recently released shows that capacity for African airlines went up by 14,7 percent over the same period.
The association said the continued growth of air freight demand was consistent with an improvement in world trade.
"Demand has been boosted by very strong growth on the trade lanes to and from Asia which have increased by nearly 57 percent so far this year. However seasonally adjusted growth has levelled off in recent months," IATA said, adding that the market to and from Asia had continued to grow strongly.
IATA noted that African carriers topped the international growth chart in May this year for the "seventh time" in nine months, with volumes up by 28,8 percent year-on-year that month.
The global data by the association covers six regions which include the Asia Pacific airlines, North American Carriers, European airlines, Middle Eastern carriers, Latin American airlines, and African carriers.
IATA said regardless of these developments, the outlook for air freight in all regions was optimistic with demand expected to grow at a robust rate of 8 percent during the third quarter of this year. - New Ziana.






Africa poaching now a war, task force warns
September 22, 2017 Africa
PRETORIA. — The fight against poaching must be treated as a war, Africa's leading anti-poaching coalition said yesterday, as it called for the illicit wildlife trade to be monitored like global conflicts.
Enact, an EU-funded anti-poaching analytical taskforce that includes Interpol, called for the expansion of a media tracking system to track poaching incidents similar to established conflict monitoring methods.
"We're following the model put out by conflict data programmes which have basically used media monitoring" on incidents of conflict, said Ciara Aucoin, a researcher at South Africa's Institute for Security Studies.
"From that research we've been able to get a more nuanced understanding of conflicts around Africa," she said while presenting the findings of Enact's new study entitled "Guns, poison and horns". Those methods can be applied to anti-poaching efforts to spot trends and help law enforcement tackle the trade, she said.
Enact unveiled the report at a summit of top anti-poaching experts in Pretoria just 24 hours ahead of international rhino day which highlights the toll of the global horn trade.
Rhino horns are highly prized in Asia where they have been known to fetch up to $60,000 (50,200 euros) per kilo — more than gold or cocaine — with most of the demand coming from China and Vietnam, where it is coveted as a traditional medicine and aphrodisiac. But expert researchers say the current black market rate in Vietnam is around $24 000 a kilo.
Africa's rhinos could be extinct within 20 years at the rate they are being poached, according to Wildlife Direct, a non-profit conservation organisation. Johan Jooste, head of special projects at South African National Parks, told AFP that the fight against poachers has become a war like any other.
"The rhino campaign in terms of armed conflict is as intense as any war," he said. "I'm a veteran of our Bush War and this is more intense than what we have seen there," he said of South Africa's brutal apartheid-era campaign against insurgents in its frontier regions between the 1960s and 1980s.
"The intensity has become high and it has become a very dangerous job. That is why in Africa we have to accept, against our will, that a ranger equals a warrior," he said.
"That is why you have to adopt a paramilitary approach . . . I refer to this as the iron fist with a velvet glove." Jooste, who spoke at the summit, said that anti-poaching patrols in the park had engaged in armed confrontation with poachers on 150 occasions. — AFP.



Poacher Zimparks employee shot
Fungai Lupande Senior Court Reporter
A Zimbabwe Parks and Wildlife Management Authority (Zimparks) employee was shot and injured while allegedly poaching for elephant tusks at Mana Pools National Park.
Charles Katazo (26) was remanded on his hospital bed by Harare magistrate Ms Josephine Sande. He was found in possession of two elephant tusks. The prosecutor Mr Sebastian Mutizirwa alleged that Katazo entered Mana Pools National Park without a permit.
Meanwhile, suspended Zimparks director-general Edson Chidziya was remanded to September 5, on charges of concealing a 2015 audit report which exposed the theft of 56 rhino horns worth $3 million.
Chidziya (52), who is represented by Professor Lovemore Madhuku, appeared in court on Thursday with three other ZimParks employees in connection with the offence.
Chidziya is facing criminal abuse of office charges. His subordinates — Zimparks wildlife officer Padgewell Mazoyo (37), audit manager Gift Kuwora (51) and former security officer Munyaradzi Nhira (32) — are charged with theft of trust property.
It is alleged that sometime between September 2012 to May 1, 2013 Chidziya acted as director-general for Zimparks. He was eventually confirmed as the substantive director-general. But during his tenure as accounting officer, Chidziya is accused of flagrantly disregarding key security procedures.
The court heard that between December 2012 and July 2015, Chidziya gave orders to Mazoyo, Kuwora and Nhira to exchange keys to the ivory strong room among themselves.
And this, according to the court, was done without a proper hand-over take-over procedure, which violated laid-out security protocols. It is alleged that 56 rhino horns were lost as a result of lax security.
The theft was discovered through a July 2015 audit. As the accounting officer, Chidziya did not however report the matter to the police. It is believed that Chidziya's year-long silence prejudiced investigations.
Zimparks lost $3 million and nothing was recovered.


REGISTRATION FOR LEARNER PROFESSIONAL HUNTERS/GUIDES EXAMS - PUBLIC NOTICE - download.




Jeffrey Gogo Climate Story
The World Elephant Society (WES), a nascent not-for-profit US conservation group, last Thursday (August 3) crushed $8 million ivory's worth to dust, following in Kenya's self-absorbed footsteps from a year ago.
It is a stunt that is as sickening as it is nourishing. Sickening in the sense that the destruction took place in the US district of Manhattan in New York City, far from Zimbabwe's Hwange National Park or Namibia's Etosha National Park – the real natural elephant habitats.
Sickening in the sense that while the WES views the destruction of ivory a noble gesture, other key stakeholders in elephant conservation such as Zimbabwe, Namibia and South Africa, which host significant elephant populations, do not.
And nourishing — only marginally — in the sense that the world still cares so much that certain agents are willing to go the full mile to protect animals faced with extinction, even when the ways they choose to demonstrate that concern infringe on the rights of others. It is a contradiction that were it not for its seriousness — the protection of one of the world's few remaining iconic wild animals — would be funny
Apart from those animals held captive in zoos, the US is not known to host any elephants of note in the wild, if at all, even though it is a major funder of elephant conservation elsewhere.
So, what would be the significance of destroying 2 tonnes of "illegal" ivory in a ridiculously affluent commercial and financial centre like Manhattan?
To capture the attention of the world's biggest funders of elephant conservation, that's why – effectively cutting the flow of aid to those countries considered rogue, those that have continued to press for legitimate trade in elephant tusks.
The ultimate message though is to reinforce global calls for a complete ban in commercial ivory trade, as championed by African states that have failed in elephant conservation, such as Kenya and their backers in the West.
It is a message for which Kenya was unflinching when it razed 105 tonnes of ivory by fire last year, in a desperate grand standing act of the highest order.
Kenya's plan was to influence the outcome of the CITES meeting hosted by South Africa last September, which it did, as the conference upheld the global ban in ivory trade – in place for the past 10 years.
Wealthy Western funders love this kind of posturing by a loyal subject, and with a $150 million bounty from the US to support its wildlife conservation for the next decade, Kenya had earned its stripes.
But it is how Kenya's apparent self-serving actions are beginning to gain currency with campaigners, as Zimbabwe's calls — and those of South Africa and Namibia — for liberalising the trade in ivory die a quiet death.
The World Elephant Society is using the August 3 ivory crushing event to mark the beginning of a 10 day count-down to the World Elephant Day on August 12, and to drive home the message ivory is not for sale. Ivory sales could only fuel the illegal killing of elephants, it says.
Ban crusade getting stronger
We predicted last October, after the failure at the South African leg of the CITES meeting, that the anti-ivory crusade will more than ever before get much stronger, as those in favour weaken.
We are already beginning to see these predictions slowly coming to pass.
Now, with two years before the next Convention on International Trade in Endangered Species (CITES) conference, there is a real chance that the debate on commercial ivory sales will close permanently, leaving Zimbabwe stuck with a 96 tonne pile of unsold tusks.
Environment Minister Oppah Muchinguri-Kashiri's fears of "wildlife colonialism" will be complete, should that happen. And the minister appeared resigned to the notion the global ban on ivory may never be lifted, when she addressed Parliamentarians at a meeting in Harare on July 7.
Criticising the West for turning a blind eye to Zimbabwe "excelling in wildlife conservation", Mrs Muchinguri-Kashiri pleaded "we should be rewarded for these efforts through sustainable utilisation, but instead we are being punished through trade restrictions."
The only reason that the world's attention is centred on Zimbabwe's 80 000 elephant herd, the world's second largest, is because the country has largely managed to keep poachers at bay, and to grow the herd prudentially, even on a shoestring budget, she said.
The Zimbabwe Parks and Wildlife Management Authority (ZimParks) spends around $30 million each year in wildlife protection. But unlike Kenya that enjoys foreign support, ZimParks self-funds, with only about 1 percent of its annual spending funded by the Treasury.
That budgetary support has since been cut, the Environment Minister told Parliamentarians. ZimParks is now expected to operate commercially, and it has begun this journey by selling off its safari properties to those that can better manage it.
It's a desperate measure to raise funds for conservation, by any means, where 96 tonnes of ivory could have easily raised $384 million, to use the WES' valuations for its 2 tonne ivory cache.
Together with South Africa and Namibia, Zimbabwe has sulked at the idea of destroying ivory as a conservation strategy. Instead, it has always argued that selling the ivory, legally, and reinvesting the proceeds into wildlife protection, made so much sense.
The trio failed to force through the adoption of the Decision Making Mechanism, which would allow trade in ivory in future, when South Africa hosted the CITES conference last September. Even plans for a once-off sale were shot down.
The plan was rejected by an overwhelming majority, after only 20 members of the Convention on International Trade in Endangered Species voted in favour, and 76 against the mechanism — in dispute for 10 years.
It is almost a decade since Zimbabwe's last commercial sale in ivory. A once off sale of 3 700kg to Japan and China on November 1, 2008, generated about $500 000, which was duly declared to CITES, according to ZimParks officials.
But a country like Zimbabwe could do more with a 96-tonne ivory inventory sold legally than burnt or crushed.
According to a 2014 report, CITES admits that the high poaching incidents in Africa result mainly from poverty, weak governance structures and poor funding. Burning or crushing brings in neither the money needed to manage wildlife sustainably nor the financial wherewithal needed to halve poverty or tame poaching.
We have queried in the past: if illegal ivory sales are truly a crisis, why not just make the trade legit?
Past CITES meeting have consistently failed to bring order, transparency and legality to the crucial issue of trade in ivory, often times simply on account of emotion from those African countries failing to effectively manage their wildlife – and those from the West with money to buy the weak, never considering Zimbabwe's single-handed efforts at successfully conserving a global resource.
There is little conviction future CITES conferences will arrive at decisions any different from those reached in the past, or for countries like Kenya, well-funded from abroad, to appreciate Zimbabwe's need to sell its ivory.
Likewise, we reiterate our previous calls, that if there was a time Zimbabwe needed to consider options outside the Convention, and, possibly re-evaluate its membership, this would be it.
God is faithful.





Victor Maphosa Herald Reporter
A Zimbabwe National Army officer who was arrested while attempting to sell elephant tusks to a police officer in Harare yesterday appeared in court facing charges of unlawful possession of tusks.
The tusks were taken to National Parks and Wildlife offices where they weighed 16,8 kilogrammes with a value of $2 856. Joseph Mupamhanga (32), stationed at Pomona Barracks, appeared before Harare magistrate Ms Nomsa Sabarauta and was remanded in custody to August 10.
Ms Sabarauta advised Mupamhanga to seek bail at the High Court.
Allegations are that on July 30 this year, police officers from the Minerals and Border Control Unit, Harare, received information that there was a man selling elephant tusks in Machipisa.
Acting on the information, the officers went to St Peter's Vocational Training Centre in Machipisa where the transaction was to take place.
The court heard that one of the officers, a Detective Sergeant Banhu, remained in the vehicle posing as the potential buyer of the tusks. It is further alleged that the other two detectives, Washington Rimayi and Tanya Mazviyo, were monitoring the situation from a distance.
Mupamhanga allegedly arrived and proceeded to the car where Banhu was waiting. Banhu opened the boot of the car and Mupamhanga placed the bag with the elephant tusks inside.
While in the vehicle, it is alleged that the other two detectives pounced and introduced themselves as police officers from Minerals and Border Control Unit.
They asked Mupamhanga to open the bag leading to the discovery of four elephant tusks. It is further alleged that Mupamhanga was asked to produce a permit or licence that authorises him to possess the tusks and he failed, leading to his arrest.



July 27, 2017 in News
A 34-YEAR-OLD Tsholotsho traditional healer has been jailed nine years for illegal possession of two elephant tusks, which he claimed were for his healing business.
BY NOKUTHABA DLAMINI
Toni Maphosa claimed that he picked the pieces of ivory in the bush and used them in his bone-casting rituals in healing sessions.
He pleaded guilty to possession of raw ivory, when he appeared before Hwange magistrate, Rose Dube recently.
"I picked the ivory in the bush and I was keeping it because I wanted to use it since I am a traditional healer," he said.
In mitigation, he begged the court to give him an option to pay a fine, saying he had money and he looked shocked when the magistrate sentenced him to an effective mandatory nine years in jail.
For the State, Loveness Maseko said the ivory weighed 0,765 kg.
It was the State's case that an anti-poaching team comprising rangers from the Zimbabwe Parks and Wildlife Management Authority received a tip-off that the accused was in possession of ivory.
"The accused was then found with two pieces of ivory, but could not produce a licence authorising him to have them.
Upon his arrest, the court heard, Maphosa said he had picked the ivory in the bush and was keeping it, so he could clean them for use in his traditional healing business.
Recently, two people were also jailed nine years each for illegal possession of three pieces of ivory valued at $900 and 270 grammes of cyanide.
David Ndlovu (42) and Nkathazo Penga (33) confessed to killing five jumbos by lacing oranges with the deadly cyanide, when they were arrested on July 4 at Cross Dete, where they were selling the ivory.






Zimbabwe Parks and Wildlife Management Authority (Zimparks) says there is no evidence yet linking the recently killed lion at Ngamo Sikumi forest to Cecil the lion and has confirmed that the hunt was legal.
Zimparks which has described the incident as unfortunate has dispelled reports suggesting that the hunt was illegal and has further clarified that no DNA evidence shows that the killed lion was one of Cecil the lion's cubs.
Zimparks public relations manager, Mr Tinashe Farawo said the male lion was killed outside the Hwange National Park adding that the hunter unfortunately could not see the radio collar on the researched animal.
While confirming that the six years two months old male lion was collared, the authority has indicated that currently there is no law which prohibits the hunting of collared lions.
There are plans to however come up with the relevant statutory instrument to ban the hunt of the collared lions and other wildlife, according to the authority.
The recent incident comes few days after the second anniversary of the Cecil the lion's death which sparked global outrage by many conservationists.
Despite the worrying trend of human wildlife conflict, the Zimbabwean government has committed itself to sustainable wildlife management through enactment of relevant frameworks and domestication of international protocols.


Govt stops ZimParks funding
July 12, 2017 Local News


Talent Hwari Herald Reporter
Government has stopped funding the Zimbabwe Parks and Wildlife Management Authority and expects it to operate as a commercial entity.
Addressing legislators at the Zimbabwe parliamentarian conservation caucus workshop in Harare on Friday last week, Environment, Water and Climate Minister Oppah Muchinguri-Kashiri said the restrictions in wildlife trade negatively impacted on the authority's budget.

Parks generates 60 percent of its revenue from hunting. "At national level, the total hunting revenue contributes an excess of $28 million every year," Minister Muchinguri-Kashiri. "We have excelled in wildlife conservation as evidenced by the high numbers of elephants in the country and we should be rewarded for these efforts through sustainable utilisation, but instead we are being punished through trade restrictions.

"Zimbabwe remains one of few nations that have viable wildlife populations and this is why the world's focus remains firmly on us. However, despite challenges and hindrances in the form of bans and negative publicity, we have proven to be committed in ensuring that wildlife prevails for future generations to enjoy. "We shall not relent in the face of adversity, but will thrive to ensure that we rise above all challenges and remain victorious in the fight against poaching."

Minister Muchinguri-Kashiri said Government developed strategies to solve the challenges that included use of sniffer dogs, aircrafts and micro-lights and experimenting with drones in wildlife protection. Deputy Minister for Tourism and Hospitality Industry Anastacia Ndlovu concurred saying: "Generally, species of wildlife that can be observed through this form of tourism are the same as those most threatened by poaching and other forms of environmental detriments."


http://www.chronicle.co.zw/harare-victoria-falls-shorter-route-opened/



https://issafrica.org/events/view-on-africa-organised-wildlife-crime-in-southern-africa




Good Day Sir/Madam
We cordially invite you to participate with and sponsor our event. Are you able and happy to sponsor us with gift vouchers, gifts for a raffle or just simply funding? The list of our requirements is attached here for your perusal. Please note the highlighted have been taken.
We would be delighted for you to sponsor us with vouchers or gifts for the raffle or funding .Sponsors obtain mileage before, during and after the event in all awards communications. You will also be welcome to provide pull up banners for display at the cocktail reception, to be delivered at the AZTA offices no later than 16.00hrs on Thursday 21st September.
As a sponsor you are welcome to purchase any number of tickets for the event. We urge you to secure these early as we are usually sold out. The prices are $45 each if purchased before the 31st of August 2017 and thereafter $50. We will also be selling raffle tickets which you can purchase prior to the event at $5.00 each. If you buy 5 before the 31st August, you get 1 free.
Tickets are selling like hot cakes, limited tables now available. Buy yours while the offer lasts.
Make your booking through the secretariat to get an invoice.
Kindly note that an unpaid booking made in August does not secure the seat price. We will need proof of payment emailed through to the secretariat in order to process the ticket bookings. 
Tickets are not refundable.

AWARDS INVITE - CLICK TO DOWNLOAD
AZTA AWARDS 2017 - CLICK TO DOWNLOAD



Africa Moyo Business Reporter—
THE Reserve Bank of Zimbabwe (RBZ) has increased the amount of foreign currency an individual can carry outside the country to $2 000 with immediate effect. RBZ had put the limit at $1 000 on May 5 last year. Presenting the Mid-Term Monetary Policy Statement in Harare yesterday, RBZ Governor Dr John Mangudya said the review has been necessitated by the need to move closer to the limit enshrined in the law.
"The carrying of foreign cash on person to exit from Zimbabwe has been reviewed to an equivalent amount of $2 000 per individual per exit with immediate effect. "Amounts in excess of this amount require prior exchange control approval. We never said no one should take above $2 000, but what we are saying is that those with appetite to carry more, you need prior exchange control approval through the normal banking channels," said Dr Mangudya.
Dr Mangudya explained that the increase was necessitated by the need to avert potential court battles since an existing Statutory Instrument allows people to carry up to $5 000. The RBZ boss said the decision to increase the exportable foreign currency was "very simple". "The Statutory Instrument that is in place right now says $5 000 (and) the policy says $1 000. So for lack of wisdom or thereabout, we thought that we settle at $2 000 so as to take into account the Statutory Instrument which says $5 000 and the policy.
"We are synchronising the two and the best way to synchronise the two was to do what we have just done . . . definitely there was confusion within those who are administering the piece of legislation. "Someone was holding the Statutory Instrument (and) it says $5 000 and someone was holding the policy, it says $1 000. So at the end of the day you don't want to waste time going to court, so what we have done is what is there," said Dr Mangudya. The RBZ plans to engage the Zimbabwe Revenue Authority (Zimra) in the battle to ensure that individuals without prior clearance from the Exchange Control Unit of the RBZ are prevented from shipping more than $2 000 outside the country.
However, diplomats carrying more than the threshold are not subjected to the new limit. Dr Mangudya said it is "not Government policy" to confiscate funds belonging to diplomats. He said the central bank had received "a number of enquiries" from diplomats wanting to establish Government's stance on the confiscation of money they hold which is in excess of the limit. The RBZ believes the new limit, together with several other measures such as increasing production and exports, and concluding a $600 million nostro stabilisation facility with the African Export-Import Bank (Afreximbank) would help boost foreign currency generation, and consequently stem shortages in the country.
Currently, the stock of money in circulation is made up of bond coins ($25 million), bond notes ($175 million) and multi currencies which are estimated to be $800 million. This means about $1 billion is circulating in the economy, but the bulk is in the informal economy.
The central bank says if the $1 billion was circulating in the formal economy, it was adequate to support usable bank balances.
Government has earmarked the upgrading of infrastructure at all the country's border posts as part of the ease of doing business reforms, Minister of Industry and Commerce, Mike Bimha has said.

In an interview with 263Chat, Bimha said a lot of progress has been made in line with the ease of doing business policies with the issue of revamping border posts being among the major priorities.
"When we talk about the ease of doing business, it's a whole plethora of issues and the issue of convenience at border posts is just one of those things," said Bimha adding that progress has been made including the turnover time for searching company names and subsequent registration. He added that government was looking at revamping infrastructure at border posts as some were failing to accommodate business coming through.

"Government is looking at revamping all border posts in terms of infrastructure, because some of the infrastructure cannot accommodate the numbers and business that is coming through, so there is focus on the infrastructure including the construction of those border posts. "In addition to that, there is a committee working on that including my ministry and a lot of work has been done we now await the implementation," said Bimha. He added that they were looking at means of raising resources to fund some of the work that that needs to be done to promote ease of business in Zimbabwe.
This comes after many cross borders have complained about poor service at the country's borders with the process of importing goods taking longer than expected.


Rangers in Malawi are taking on the mammoth task of moving hundreds of elephants into safer national parks. 
The animals have suffered a sharp decline in recent years due to poaching and loss of habitat. 


https://www.dailynews.co.zw/articles/2017/07/26/tourism-ministry-engages-police-over-roadblocks#.WXmcf-NQWrM.email
NEW NUMBERS AND AREA CODES
Areas with Prepaid Billing; new area codes and number change:
Town/City


Existing Area

code

New Area Code

New Prefixing number

Chitungwiza

0270

0270

27xxxxxx(existing number)

Chipangayi

024

0224

2046xxxx(existing number)

Juliasdale

029

0229

2082xxxx(existing number)

Shurugwi

052

0252

252xxxxx(existing number)

Mkoba 1 & 2, Senga (Gweru)

054

0254

2xxxxxxx(existing number)

Mucheke (Masvingo)

039

0239

2xxxxxxx(existing number)

Cowdray Park, Hillside , Bellevue, Pumula, Suburbs (Bulawayo)

09

029

2xxxxxxx(existing number)

Epworth, Hatfield, Sunningdale, Braeside , Harare Airport , Kuwadzana, Warren Park, Mufakose, CBD, Milton Park, Avenues, Dzivarasekwa, Athlone, Glen Norah(Harare)

04

024

2xxxxxxx(existing number)

Macheke

0379

0379

2080xxx(existing number)

Norton

O62

062

Number remains the same

Chegutu

053

0253

215xxxx(existing number)

Mashava

O35

0235

245xxxxx(existing number)

Penhalonga

020

0220

24xxxxxx(existing number)

Kariba

061        

0261

 

Mazowe

0275

0275

2195xxx(last digits of old number)

Plumtree

019        

0219

2805xx(last digits of old number)

Nyanga

0298      

0329

2098xxx(last digits of old number)

Ruwa

0273

0273

213 xxx(old number)

Rusape

025        

0225

 

Shurugwi

 

 

 

Chipinge

0227

0227

 

Chiredzi

031        

0231

 

Marondera

0279

0279

23xxxxxxx

Karoi

064        

0264

 

Mutoko

0272

0272

213xxxxxx

Victoria Falls

013

0213

28xxxxxxx

Kadoma

068

0268

21xxxxxxx

Darwendale

069

0269

2192xxxxx(existing number)

Chinhoyi

067

0267

21xxxxxxxxx(existing number)

Headlands

02582

Not changing

Number not changing

Murombedzi

0675

Not changing

Number not changing







CAAZ in US$2,2m loss
July 19, 2017 

The Civil Aviation Authority of Zimbabwe (CAAZ) has recorded a net operating loss of US$2,2 million for the 2016 financial year on the back of 15 percent increased turnover.
CAAZ is one state enterprise which has successfully held its annual general meeting for the second time as recommended by the Auditor General.
Under the 2016 financial year, the enterprise recorded a net loss of US$2,2 million despite a 15 percent growth in turnover from US$33,5 million in 2015 to US$38,5 million for the period under review.
Despite a huge loss in 2016, the authority is eyeing profitability this year owing to increased flights as the state enterprise relies on the volume of passengers, according to CAAZ Chairman, Advocate Thembinkosi Magwaliba.
According to the 2016 financial results, the authority's operational expenditure declined by 5 percent with a 14,9 percent net surplus, while employment cost to total revenue stood at 43.8 percent.
In 2016, the world over, 3,7 billion passengers were recorded up from 3,5 billion passengers in 2015 representing a 6,3 percent growth.


VISION 5:5:15:2020

Zimbabwe fails to meet business reform targets
By Paul Nyakazeya, Online Editor


ZIMBABWE has failed to meet reform targets, agreed in December, meant to improve the ease of doing business and increase exports desperately needed to inject liquidity into the economy.
The development has resulted in failure to improve the competitiveness of local products on the global market, a government official said.
Speaking at a review seminar last week, deputy chief secretary in the Office of the President and Cabinet (OPC), Ray Ndhlukula, said principal goals to improve the ease of doing business under a Rapid Results Initiative (RRI) had not been achieved since December 12, 2016 when government set targets for implementation of the project.
"The first 100 days came to an end on March 6. The second hundred days ended on June 14. At the end of the first 100 days, none of the principal goals for the thematic working groups were achieved because the recommendations were not implemented. It was, therefore, agreed to extend the RRI period by another 100 days to allow the implementation of the recommended reforms," said Ndhlukula.
Government, ZimTrade and the OPC last year on December 12 launched the Ease of Doing Export Business RRI aimed at facilitating the increase of value-added exports for Zimbabwe to increase foreign currency earnings.
The project is a key part of the OPC's Rapid Results Approach aimed at the implementation of policies, programmes and projects by government and its various agencies.

"I must express my disappointment at the reluctance and slow pace by the relevant regulatory authority in imple
menting the required reforms, despite the extension to the second 100 days. The Office of the President and Cabinet would engage these regulatory authorities whose tardiness was slowing the entire process of reforms," he said.
Ndhlukula said government and the private sector had come to a consensus that export growth was the most effective way in which Zimbabwe could generate much needed foreign currency. ZimTrade chief executive officer, Sithembile Pilime, said the delay in implementing agreed reforms was contributing to a decline in exports.
"Exports declined by 28,66 percent when we compare the figure for the month of April 2017 to that of January 2017. Comparatively, the import figure for April is 5,35 percent higher than that for January. Consequently, the trade deficit worsened by 75,2 percent over the same period. These trade figures raise alarm for us to urgently act on the reforms recommended by the thematic working groups," she said.

Zimbabwe's trade deficit stood at $1,01 billion in the first five months of the year, a slight improvement from $1,12 billion last year, according to figures from the Zimbabwe National Statistics Agency.
Imports stood at $2,14 billion while exports amounted to $1,13 billion. Major exports included semi-processed gold worth $320 million, flue cured tobacco worth $229 million, ferrochrome worth $148 million, nickel ore and concentrates at $143 million, diamonds at $34 million and nickel matters at $20 million. Other exports included beef, agricultural produce as well as wines, minerals and scrap metal.

To ensure the continuity of the work that the thematic working groups were doing, ZimTrade proposed that there be an Implementation Monitoring and Evaluation Committee, which would meet regularly to monitor implementation of reforms that had been agreed upon but not completed. Deputy Minister of Industry and Commerce, Chiratidzo Mubuwa, said her ministry, working with ZimTrade and the private sector, was going to be aggressive in pursuing a strategic export development and promotion agenda targeted at driving the manufacturing sector and other quick-win sectors towards export orientation and international competitiveness."I note that the proposed amendments to some export regulations which are administered by a number of agencies are still under consideration by the Attorney General's office. It is my fervent hope that the process will be expedited with a view to improve the ease of doing export business," she said.
newsdesk@fingaz.co.zw
Zim still chasing elusive Asian tourism market
By Andrew Kunambura, Political Reporter
THE United States (US), Europe, Australia and Canada have long been Zimbabwe's traditional tourist source markets.

But since the turn of the century, Zimbabwe has turned east to the Asian market to boost numbers due to economic sanctions from the West, which have been occasionally accompanied by travel warnings.

The World Travel and Tourism Council says 9,8 million new jobs were added into the tourism sector, which contributed $7,2 trillion to the global gross domestic product in 2016. Global tourism employment figures stand at 380 million.
Buoyed by the Asian market, the sector has become the third largest global exporter after oils and chemicals, and has overtaken foodstuffs and automobiles. However, after falling out with its traditional western market largely over the southern African country's chaotic land reform programme in 2000, Zimbabwe has been struggling to attract visitors, not only from the growing global tourism industry, but also from the lucrative Asian market.
Tourism and Hospitality Minister, Walter Mzembi, attributes this to inadequate fiscal support to his ministry, which was allocated $600 000 for tourism promotion in the country's $4,1 billion 2017 annual National Budget.

He is agitating for a one percent (approximately $40 million) allocation from the annual budget, which he says would help market Zimbabwe's tourism products in Asia. Mzembi says because of the poor budget allocation, the country is failing to benefit from the flourishing international tourism. Spurred by a blossoming middle class, Asia has been a global tourism force in recent years. According to the ITB World Travel Trends Report for 2016/17, which analyses current developments in Asian source markets, China contributed at least 280 million outbound tourists in 2016.
The figure is set to grow to 600 million outbound travellers per year by 2020. Sadly, Zimbabwe appears to be missing out on a share of that rich cake, and for Mzembi, it all boils down to lack of investment."How do we miss it in our budget assumptions? For as long as I have been Tourism Minister, we have continued to get a decimalised percentage share of the annual budget. We inflict self-injuries," said Mzembi.

He said, however, that he had created a $1 billion tourism economy in Zimbabwe without any meaningful investment.
"Imagine what we can do if we get just one percent support from the fiscus? I can guarantee that, if I get it on a sustained basis, I can transform Zimbabwe's tourism economy from $1 billion to $5 billion within the next three years," said Mzembi, adding that China, as a single source market, could be sufficient on its own. China became the largest spender in international tourism globally in 2012 and has maintained top spot ever since. According to the ITB report, China and South Korea were the best performing outbound tourism markets of 2016, with 18 and 11 percent contributions respectively.


These figures are corroborated by the United Nations World Tourism Organisation (UNWTO) report, which said spending by Chinese tourists grew by 12 percent in 2016.
"2016 was another strong year for outbound tourism from China, the world's leading outbound market. International tourism expenditure grew by $11 billion to $261 billion, an increase of 12 percent. The number of outbound travellers rose six percent to $135 million in 2016. This growth consolidates China's position as the number one source market in the world since 2012, following a trend of double-digit growth in tourism expenditure every year since 2004," said the report. The outbound traffic from China has largely benefited destinations in Asia, the Pacific as well the US and Europe. The country lags behind Kenya, South Africa, Botswana and Zambia, which offer almost the same products, according to UNWTO data. Why then has Zimbabwe failed to tap into such a rich Asian market despite having some of the world's finest tourist destinations such as the Victoria Falls, Great Zimbabwe, a rich and diverse wildlife?
For Mzembi, the answer is quite simple."Imagine if we had a marketing budget and were able to go out there and really position ourselves for who we are as the Zimbabwean product, we would be doing very well," he said.
However, that Zimbabwean product is hard to sell after years of adverse reports on human rights abuses and, more recently, the many police roadblocks that have scared away tourists.

For the Chinese, instead of coming in their numbers, they have decided to ship baby elephants from Zimbabwe to their zoos. There is a huge market for domestic tourism products in China, with revenue topping $326 billion. Zimbabwe's foreign currency and liquidity crises have also affected tourism, as visitors to the country struggle with payments. newsdesk@fingaz.co.zw

Tourism boosts African economies



A new report finds flourishing tourism in Africa is putting millions of people to work and adding billions of dollars to national economies.The UN Conference on Trade and Development's annual Economic Development in Africa Report projects continued robust growth in tourism in the coming years.

Growth figures in Africa's tourism sector are impressive. The World Travel and Tourism Council projects the total contribution of tourism to Africa's Gross Domestic Product will amount to $296 billion by 2026.

This is a phenomenal increase considering that tourism's direct contribution to Africa's GDP was $30 billion between 1995 and 1998. The Tourism Council also expects the sector to generate nearly 29 million jobs in 2026 up from 21 million in 2016.





Harare International Carnival targets three million attendees. . . Justice Maphosa unveiled as platinum sponsor

Melissa Mpofu, Showbiz Editor


The Zimbabwe Tourism Authority (ZTA), organisers of the annual Harare International Carnival (HIC), have their eyes set on attracting three million attendees for this year's event after an estimated two million are said to have attended previous editions.
Announcing the carnival's return on Thursday, ZTA chief executive, Karikoga Kaseke said this year's event was being rebranded and would be bigger and better. The 10-day extravaganza is scheduled to take place in the capital from September 1 to 10 with the climax being the street party on September 9. There will be a cocktail of carnival events in between. "There has never been consensus in terms of the numbers of people who attended the previous editions of the carnival. We estimated the numbers to be in the region of two million and this year, we've dubbed the show, three million man carnival," said Kaseke.
He said they were convinced they would stage a world-class event as Government has already given them adequate funds to do so.
"Government, through the Ministry of Finance and Economic Development has given us adequate funds to deliver an excellent carnival akin to its standards of being the biggest street party in Southern Africa," he said.
Other than Government, the carnival also has another platinum sponsor in the form of SA-based Gwanda businessman, Justice Maphosa through his Big Time Strategic Group of companies.
"More so, we've been fortunate to have found a reliable partner and sponsor with whom we have a shared vision of the carnival. The event will be named Big Time Harare International Carnival as the sustainable partnership we have with the Big Time Strategic Group has seen them intimately supporting our programmes," said Kaseke.
ZTA's partnership with Big Time will see the SA company providing stage and lighting equipment for the main stage. They will also pay for local and regional artistes performing at the fete.
"Among other critical things, Big Time Strategic Group will give us the main stage, public address system, the lighting equipment and sponsorship of both local and regional artistes.
"With such support, certainly the Harare International Carnival will grow much more in years to come into a sustainable and viable national event supported by talent, expertise, skills and knowledge that is uniquely Zimbabwean."
Government funds, according to Kaseke, will not be going to waste as apart from the socio-cultural benefits accrued from the carnival, the event has had a huge impact on the country's economy.
"The last time we had the HIC in 2015, according to our research, the event generated around $21 million within the week of the carnival thereby delivering considerable benefits, not only to individuals, but the national economy at large."
The carnival will be held under the theme: "One Love – our unity our pride."
About 25 countries are expected to showcase their culture at the carnival as well as locals drawn from different parts of the country.
On the preparations of the event, Kaseke said they were still deliberating on the carnival street procession route.
"The major change this year is the route of our carnival street party. Traditionally, the procession began at the Magistrates' Courts into the CBD. This year, we're converging on the eastern side of the CBD and proceeding to the Robert Mugabe Square opposite Rainbow Towers. That's where the main stage will be mounted for a Carnival musical concert," he said.
The ZTA has introduced a legacy project which will see them try to restore glitz and glamour to the streets of Harare by first transforming Robert Mugabe Road which has become a shame to the country, according to Kaseke, by cleaning it up and putting proper vending stalls.
"The road is filled with all sorts of dirt emanating from different activities of vending and transport movement rampant during the day and night.
"We cannot continue to cast a blind eye to that as a nation. Robert Mugabe Road is named after our iconic President. We need to show respect and pay homage to the Head of State by creating order and sanity in this road.
"We're going to put proper vending stalls which are also environmentally friendly along Robert Mugabe Road. We want to create a shining model that'll also link them with the main stream economy. Vending happens anywhere in the world even where there are strong and vibrant economies like in the USA and Italy but it's how it's done that makes a difference," he said.
Kaseke said they would be launching the rebranded carnival today in Highfield at the Takashinga Cricket Club.
"We've taken the carnival launch to the people to give them a feel of the big event to come. It'll be a free show that'll see the crème de la crème in the music entertaining people including Jah Prayzah, Soul Jah Love, Andy Muridzo, Shinsoman, Peter Moyo, Mbira Dze Nharira, Diamond Musica and Seh Calaz," he said.
Afterwards, the carnival will be decentralised by creating carnival fiestas in Mutare, Masvingo, Gweru and Bulawayo to get people from different parts of the country excited ahead of the main event. Dates for the fiestas are yet to be unveiled.


Update
- ZCT PR MEETING 13/7/17
- ZCT GOLF MEETING 17/7/17
- MINISTER OF HOME AFFAIRS TOURISM SECTOR 17/7/17
- ZCT GOLF MEETING 24/7/17
- ZCT PRESS BRIEFING 25/7/17

Full Details - Click here.
ZPHGA Eco-cash account – 0778952440




SOAZ Eco-cash Account – 0783909883


Safari Operators Association of Zimbabwe (SOAZ)
Skype: stanley.mudawarima





Mukuvusi Woodlands, Hillside Road/
Glenara Ave South, Hillside, Harare, Zimbabwe
Tel/Fax: +263 (0)4 779792
Mobile: +263 (0)775 196 373
Website: www.soaz.net
Email: soaz@mweb.co.zw



Back to top
BUSH TELEGRAPH
Promoting your Business
Mukuvisi Woodlands,
Hillside Rd., Hillside
Harare, Zimbabwe.